Home > Workshops > Location Based Storytelling Workshop

Location Based Storytelling Workshop
Location Based Storytelling Workshop was arranged in Bitola, Macedonia in summer 2005.
The main location of the workshop was in Tumba Kafe - a very beautiful hill close to the city center, which is one of the popular areas where local people come to jog and to spend their free time. The workshop participants worked with different kinds of mindmaps with the themes varying from music to family history and visit to assembly. The participants had different kinds of backgrounds (students of pedagogy, geography etc.), but it seemed that everybody were keen on experimenting new things and and also contents that they might not study in their universities.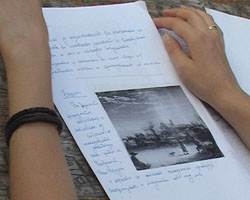 In the end, there were two projects finalised. Both of the groups chose virtual medium to present their ideas. Mirjana and Anet were studying the representation of nature in the history of modern art. They explored how the theme is presented especially in paintings in different style perioids. Basically their approach was to connect both of the mindmaps together: Anet have always been interested in art history and Mirjam is interested in nature. Their future plans for the study are that they might work in co-operation with a museum in Bitola to create even more thorough presentation of nature in modern art.

Olgica and Ivanco worked based on Ivanco's idea: they wanted to create a picture of Bitola presenting different time perioids of Bitola at the same time. The picture is like a visual map of Bitola. They collected pictures from various sources and Olgica had a beautiful collection of old photos of Bitola. They used aerial picture of Bitola as a basis for the whole image; this created the map. Then they placed old and new images on layers embedding them together to correct places on the background image. Their future plans for the project is that they would like to make posters for for example tourist information in Bitola.
See the final picture (523 kt).

See pictures from the final project presentations.
See video of the final presentations in Vimeo
Workshop participants
Sanja Kuzmanovska
Ivanco Mitrovski
Anet Pecipajkovska
Mirjana Sonce
Olgica Taneska
The workshop was arranged in co-operation with Forum Na Mladi (Aleksandar Misevski). It was supported as a part of Elephant Paths-project by Art Council of Finland.